Comprehensive Residential Air Conditioning & Heating Services
Residential HVAC Services in Westchester, Fairfield, Putnam, and Dutchess County
Taconic Heating & Cooling provides homeowners throughout Westchester, NY with a wide array of residential HVAC services. For over 40 years, we've been proud to help our community stay comfortable and safe in their homes. Our affordability, honesty, and dedication to excellence are what help us stand out. We promise exceptional service at every step of the way, from new installations to routine maintenance. We also provide emergency 24/7 repair services, so your family never has to worry about your heating or air conditioning breaking down in the middle of the night. Learn about our services and how we can work for you. Contact us today to schedule your installation, maintenance, or repairs on your heating or air conditioning system in your Westchester home.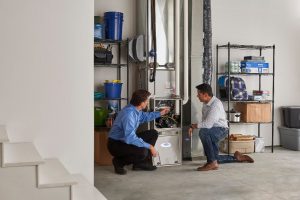 Air Conditioning
We provide comprehensive air conditioning services to help your family stay comfortable without breaking the bank.
Sales and Installation
Whether you're building a new house and shopping for a new air conditioner or it's time to replace your dated unit, we're here to help. Our helpful and knowledgeable salespeople can help you determine the right unit for your home depending on size, family size, lifestyle, and budget. From there, we can install it and instruct you how to operate it. Modern air conditioners run more efficiently than dated units, saving you on your environmental impact and costly energy bills when the muggy summers roll around. They're also quieter and don't need to run as frequently, helping to reduce maintenance costs as well.
Maintenance and Tune-Ups
Like all machines, your air conditioner requires maintenance and tune-ups to stay running smoothly and efficiently. A properly maintained air conditioner will run more efficiently, quieter, and help reduce energy bills. It will also help you avoid breakdowns and potentially costly repairs or replacements.
While we prefer to conduct routine maintenance on your air conditioner, we understand that things happen. We'll be out to your home quickly to repair your air conditioner. We also provide emergency 24/7 repair services. Our team of repair technicians is licensed, bonded, and insured with years of experience to better serve you.
Heating
Stay warm this winter with professional heating services from our team of tenured experts.
Furnace Sales & Installation
Is it time for you to upgrade your furnace? We carry a wide range of affordable, top-of-the-line furnaces and heat pumps that we can help you with. Our friendly and knowledgeable team will help you determine which unit is right for your home and budget. After we decide on the right furnace or heater, our installation team will work around your schedule you install it in your home. We'll chat with you about how to operate it and answer any questions or concerns you may have.
Nobody wants to get stuck in the middle of winter with a faulty furnace, layering up with blankets. We provide emergency 24/7 furnace repair throughout Westchester to keep you and your family comfortable and safe. Our repair technicians are licensed, insured, and bonded to provide you the very best.
Furnace Maintenance
How long has it been since you schedule your furnace maintenance? We recommend having our expert technicians come out to conduct routine maintenance on your furnace once a year. There are many benefits of properly maintaining your furnace, including:
More efficient operation
Lowered energy bills
Lowered risk of breakdowns and replacements
Quieter operation
Peace of mind that your furnace will always run each winter
Why Choose Us?
The team at Taconic Heating & Cooling has over 40 years of expertise under our belts. We take pride in providing families throughout Westchester with the best possible residential HVAC services at affordable rates while respecting your home. Our licensed, bonded, and insured technicians, knowledgeable salespeople, and state-of-the-art tools and technology allow us to do our best for our clients. Whether you need a new furnace installed in your new home or you would like to schedule routine maintenance on your air conditioner, we're here for you. We work on a wide variety of makes and models of HVAC units and sell name-brand air conditioners and furnaces.
Give us a call today to schedule your appointment. We do our best to work around your schedule, respecting your time and property while we work.
Contact us today to schedule your appointment! We work with all types of furnaces and air conditioners. Every member of our team has a deep knowledge and understanding of our products, allowing us to help you every step of the way. We work on the following and more:
Gas furnaces
Oil furnaces
Ductless heat pumps
Geothermal heat pumps
Air conditioners
Evaporator coils
Boilers
Fan coils
Air purifiers
Wi-Fi and non Wi-Fi thermostats
CO alarms
Ventilators
Humidifiers
UV air purifiers
Serving Westchester, Fairfield, Putnam, and Dutchess County