Does your furnace, boiler, or heat pump need repairs? Have you scheduled your annual heating maintenance service? There's no need to wait to ensure you stay warm and comfortable.
When it comes to heating maintenance and repairs in Westchester County and the surrounding areas, you can count on Taconic Heating & Cooling Corp. Call (914) 734-9300 to arrange your heating service appointment.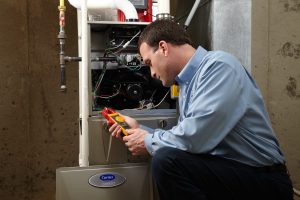 Comprehensive heating maintenance
When the colder weather is upon us, you do not want to end up wearing hats and gloves inside your home just to keep warm. To prevent this from happening, make sure to schedule your annual heating maintenance service. The qualified HVAC technicians at Taconic Heating & Cooling Corp. have experience working on all makes and models of heating systems. Upon arrival at your home, our heating professionals will:
Check thermostat controls and recalibrate or replace, if necessary
Inspect the quality of the furnace or boiler flame for safe and effective shape and color
Check any filters and replace if dirty to improve efficiency
Inspect and clean ductwork
Clean blower and remove any dirt or soot from furnace
Test water temperature and pressure (for hot water heating systems)
Overall, our team will ensure your heating system is ready to go for the coming cold weather season. A proper pre-season maintenance service will go a long way toward preventing us from having to return for emergency repairs. For your annual heating maintenance service appointment, call (914) 734-9300.
Fast and reliable heating repairs
No heat? Strange noises? Thermostat issues? These are just some of the common problems with home heating systems. If your heating system is acting up or not working, get in touch with our team immediately for a quick diagnosis and fast heating repair.
Our HVAC technicians are experienced in all types of heating systems, including boilers, furnaces, and heat pumps. No matter the make or model, we have the knowledge, skill, and parts to repair and restore comfort to your home.
We arrive as soon as possible, inspect your heating system, and quote you a fair price for repairs. And since we have a reputation for being prepared, we'll have your heating unit back up and running in no time at all. Call (914) 734-9300 today.
Helping you stay comfortable
Our HVAC technicians are known for their open and friendly demeanor, and they'll take all the time you need to answer all your questions. Not only do we ensure your heating unit is operating at its best when we walk out the door, but we offer you advice on how to keep your system operating efficiently and safely while we're away, too.
If you're looking for heating repairs or maintenance in Westchester County, Putnam County and Fairfield County, get in touch with Taconic Heating & Cooling today. We always arrive on time and ensure your home is clean and warm before we leave.
Serving Westchester, Fairfield, Putnam, and Dutchess County